How to use Totwoo
 Totwoo combines the latest wearable tech with jewelry craft.  You can enjoy different functions with different Totwoo smart jewelry. To use your brand new Totwoo, you have to complete these steps:
 App installation, bracelets connection, pair, etc.
First of all, please make sure that your bracelet is powered and the mobile phone network is normal.
Step 1-Download the app.
Search and downloadTotwoo app from the App Store or Google Play Store, depending on your device.
Step 2-Sign up on the "Totwoo" app.
Enable Bluetooth on your phone and make sure you are connected to Wi-Fi or a mobile network.
Make sure your bracelet is within 10 ft (3 m) of your phone.

We start the in-app setup by adding a few details, that identify you and your account, namely your phone number and code.

The phone number helps to authenticate your account. A unique short-code message is sent to the number you provide, which confirms that you, and only you, are signing in to your account. Make sure not add 0 after the country code!
Step 4-Settings.
Pair your phone with the app by accepting all permission requests for the app to access resources on your phone, e.g. Bluetooth. Not accepting the permission requests will lead to your bracelet not getting connected to your phone.
Step 5- Pair your bracelets with your Totwoo app. 
Choose your bracelet as displayed in the app. The app will look for the signal coming from the bracelet.
Click on the screen of your bracelet when the app searches for the signal so they can sync.
A pop-up will appear on the app asking to pair your Bluetooth with the bracelet. Click "Pair" and allow all notifications.
Step 6-Repeat Steps 1-5 on your partner's phone to connect the other bracelet.
Step 7-Pair your partner.
All that's left before being able to use your Totwoo bracelet is to pair your partner.

When arriving to the Totwoo App Dashboard "LOVE" you'll find a large button in the middle asking to "❤️Pair With".

Tap that button, then "Mobile Contacts", enter your partner's area code and phone number or pick them from your contact list. While entering the phone number, make sure you don't use spaces or special characters.

You and your partner both need to pick each other: that way our server will be able to match you, and you'll be able to start connecting.
Step 8-Test your bracelet.
While you wait for your partner to accept your invitation, you can start using your bracelet, to get used to it.
Tap the jewelry to send love. It will light up after being tapped for one second.
Remember: the app needs to be running on the background of your phone at all times!
Do you have any other questions or doubts?
You can get help, there are several ways:
No.1 Go to Totwoo App> Me>Help
No.2 Go to totwooglobal.store>Get Help>Technical-troubleshooting
No.3 Service Email:support@totwoo.com

Stay Connected With Your Beloved Ones
No matter how far away you are from each other, as long as you tap on jewelry, the another half will flash and vibrate.
Every flash means I am thinking of you. When you tap, the system will also send a message  to the other party.
Store Your Precious Memory
Picture, video, audio, and text can be saved in the jewelry, tap to open the dairy page. Let the pendant be the magic key to open the door of all memories. Also, the memories can be shared with your beloved ones.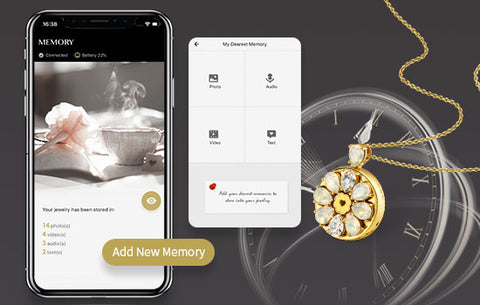 Customized Notification 
To set vibration and flash reminder for a special event: 
Call / 
App / 
Calendar / 
Hydration / 
Customize reminder. 
The call notification can
 set up to only accept calls from important contacts.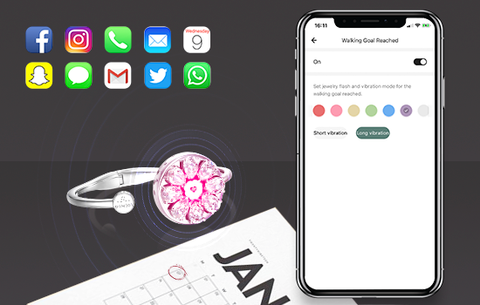 Sleep Monitor
Sleep monitoring function to record the complete sleep condition. Analyze the whole process of sleep state to help you improve your sleep quality.
You can also see your partner's sleeping quality if you pair your account with him/her.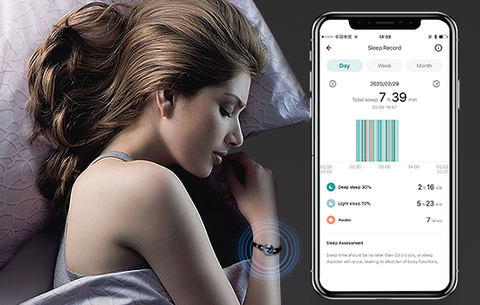 Steps Tracking
The jewelry can calculate the steps and consumed calories without binding mobile phone, so it will not be cumbersome when moving.
Once your target is achieved, it will congratulate you by flashing with colorful light. keep healthy and be happy!
Selfie Remote
The product provides remote photo taking function, opens the camera interface, taps jewelry to take selfie.
Sometimes it's inconvenient to take photos with both hands, and the selfie pole is too heavy. Jewelry can help you take picture of your daily wear and all happy moments.