Totwoo Launches The Love Series Touch-Sensitive Bracelets
Distance may physically separate lovers, but technology brings them closer than ever. Global smart wearable brand totwoo understands this, which is why they have created the Love Series - Candy. Beautiful and interactive bracelets that connect couples across any distance.
Crafted for Comfort and Style
Fashionable totwoo's new Love Series bracelets Candy are designed for comfort and style with original and wave versions. Crafted from 316 stainless steel and flexible silicone, they come in 7 vibrant unisex colors(Coconut White, Chocolate Black, Light Blue, Mint Green, Purple, Pink, Blueberry Blue and more) to match any look.. The adjustable design fits most wrist sizes for all-day wearability.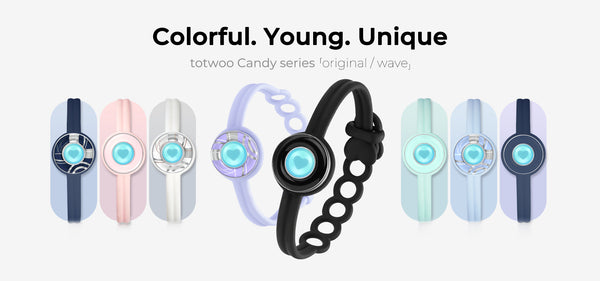 Interactive Touch-Activated Technology Connects You Anywhere
But these bracelets offer much more than good looks! Using NB16 smart chip, the Candy senses your touch and instantly alerts your partner's bracelet, no matter the distance between you. A tap sends a heartbeat, a firm touch sends a hug. The bracelets light up to symbolize your connection.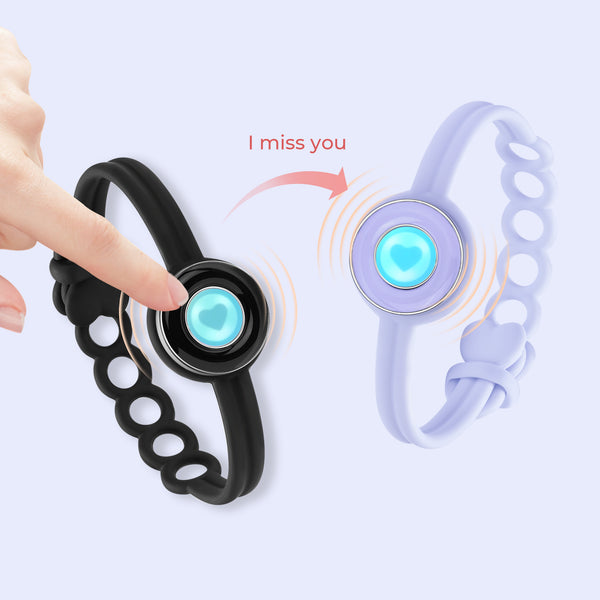 Every Detail is Love
As you can see, totwoo's attention to detail reflects their vision of love in each part of the Love Series bracelets. The circular totwoo design language representing wholeness is carried onto every aspect. On the back, "Love in the Moment" is engraved, encapsulating totwoo's belief in being present in love.
From the curved silhouette to the meaningful engraving, the exclusive details crafted into these bracelets make love tangible in each moment. totwoo poured their perspective on rounded, fulfilling love into every fine point, letting the wearer feel its presence on their wrist.
For totwoo, the Candy was crafted to let customers experience love through each considered detail.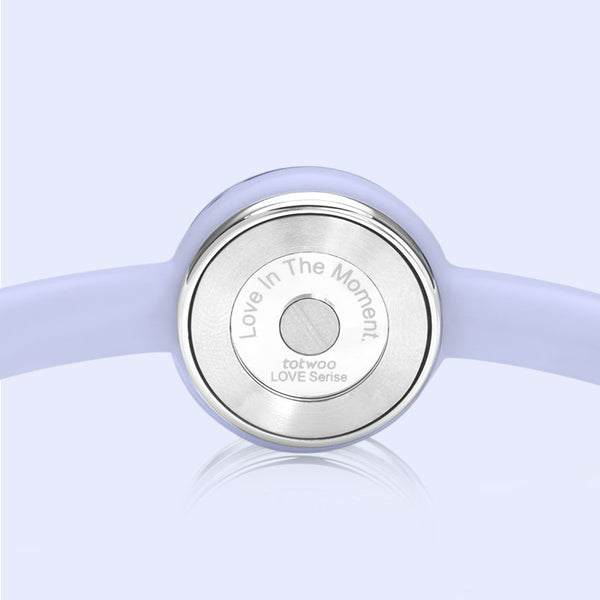 Receive Your Love Letters
The Candy allows you to send a love letter from afar that magically appears on your partner's wrist.
By using the app, you can record a video, snap a photo or write a text message and save it to your loved one's bracelet over the air. When your letter arrives, their bracelet gently vibrates and flashes a light. Your partner simply touches their bracelet to open the letter and view it right on their smartphone.
It's like receiving a love note straight to their wrist, brought to life through totwoo's innovative technology. With a tap, they can instantly see and hear your thoughtful words, pictures and videos - no matter where in the world you both may be.
The Candy transforms digital messages into tangible reminders of your connection that they can replay whenever they miss your presence.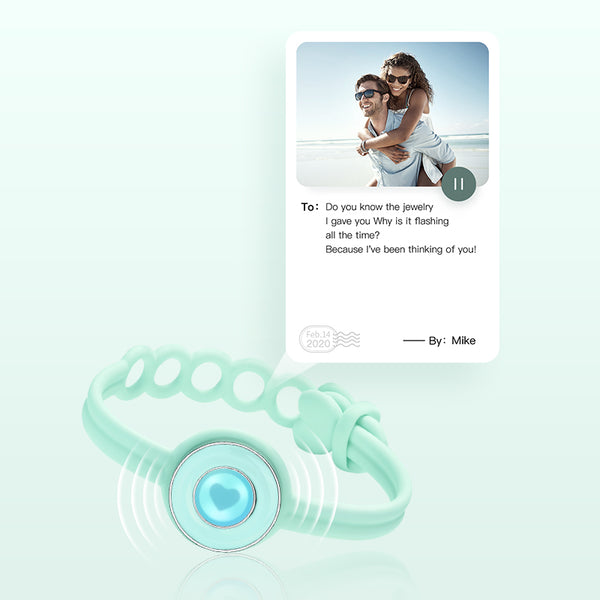 Water-Resistant For Daily Life Protection
Importantly, the Candy features water resistance for daily life. Rigorously tested across everyday scenarios, they can be worn worry-free in splashes or rain. However, prolonged water immersion like swimming is not recommended.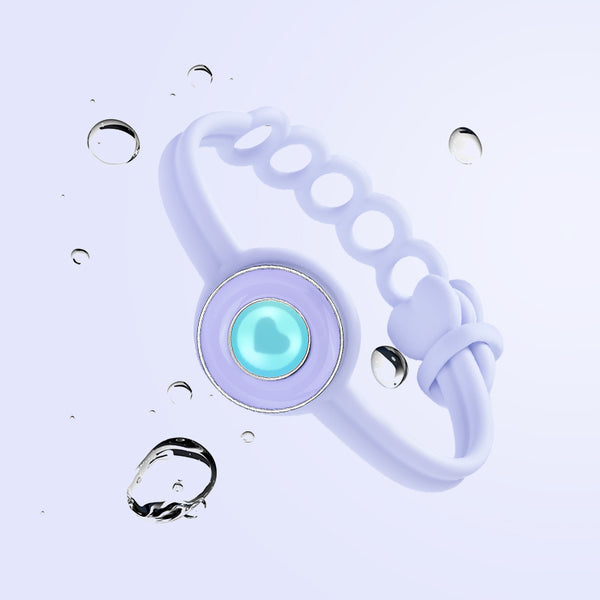 See Who's Calling From Your Wrist
The Candy bracelets make it easy to see who's calling right from your wrist.
When your smartphone receives an incoming call from one of your top 3 important contacts, the bracelet vibrates and flashes a unique light color designated just for them. Without even reaching for your phone, you'll know who's trying to connect with you based on the customizable color glowing from your bracelet.
It ensures you never miss an important call from loved ones who matter most. Whether it's your partner, close friend or family member calling, your totwoo bracelet gives a discreet notification that eliminates missed connections.
With just a glance at the vivid light pulsing on your wrist, you can immediately tell if it's a call worth answering - no need to dig out your phone. The Candy uses subtle tech to keep you smoothly connected.
Sense Your Partner's Touch From Anywhere
Through this innovative touch technology, the Candy bracelets replicate the joy of physical closeness. Your partner's gentle tap will be felt on your wrist, their affection sensed instantly. The bracelets glow softly to represent their presence.
More info: The Science of Color and Technology & LD Relationships!
Lights Glow to Symbolize Your Connection
When activated by your partner's touch, the Candy bracelets emit a gentle glow, symbolizing the physical and emotional connection you share across any distance. See the light and feel them near.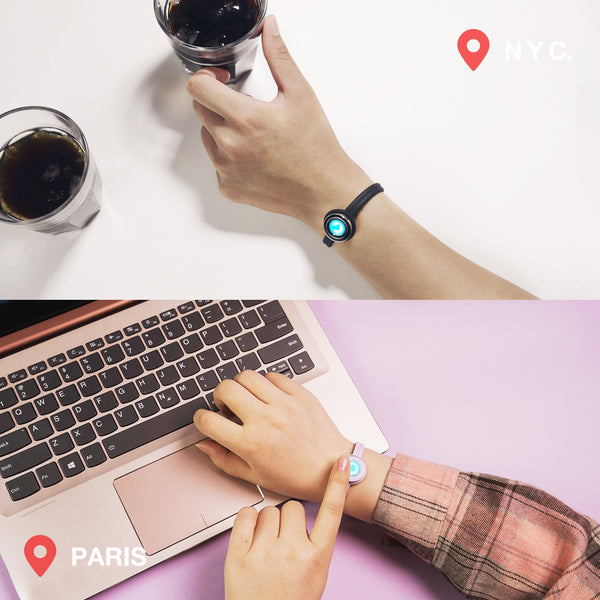 Powered to Keep You Linked for Weeks
A built-in battery powers each bracelet. With an efficient circuit, the Candy needs just 1 hour to charge fully, lasting for up to 5-7 days of average use on one charge.
Order Now, Delivery in 8-12 days
Be the first to connect with the one you love from afar. totwoo's Love Series Candy is available now, order and get it in 8-12 days . These touch-activated bracelets retail at $XX on totwoo's website.
Spread the Word to Connect Couples Across Distances
Don't let distance diminish love. With totwoo's Love Series bracelets, long-distance couples can feel closer than ever. Spread the word to connect lovers across geography. totwoo's wearable innovation lets you feel the warmth of your partner anytime.
FAQs
1. Is totwoo waterproof?
The intelligent core inside the jewelry can be waterproof for daily life, but it is not recommended to submerge the jewelry.
2. What is the Bluetooth connection distance for totwoo?
totwoo is made of precious metals, and the developers have optimized the Bluetooth connection. The distance between the jewelry and the phone for Bluetooth connection can reach 2-3 meters. However, the environment can affect the Bluetooth connection.
3. Does the soulmate feature require both people to have the jewelry? (If you purchased a product with this feature)
No, as long as both people have downloaded the app, one person only needs a phone or even a smartwatch to interact with the other person's jewelry. Of course, if both individuals have the jewelry, the interaction will feel more magical.
4. How far can the soulmate feature sense each other? (If you purchased a product with this feature)
There is no distance limitation. The soulmate feature requires the two individuals to first establish a one-to-one connection within the app. Therefore, as long as there is an internet connection, they can send signals to each other.
5. How should totwoo be maintained?
For jewelry, scratches and oxidation in the air are unavoidable natural phenomena. Every mark left by the wearer on the jewelry belongs to their special memory. Please take care of and protect your jewelry.
6. What is not covered under the warranty?
Quality issues caused by severe stone loss, chain breakage, surface scratches, wear, and tear due to improper use or storage.
Surface scratches, wear, and tear on the product caused by poor packaging or logistics factors during returns.
Read More
---
1 Kommentar
---
---